Garmin vívofit jr. 3, Lilac Floral
Original price
$89.99
-
Original price
$89.99
Interact with the wonders of our world.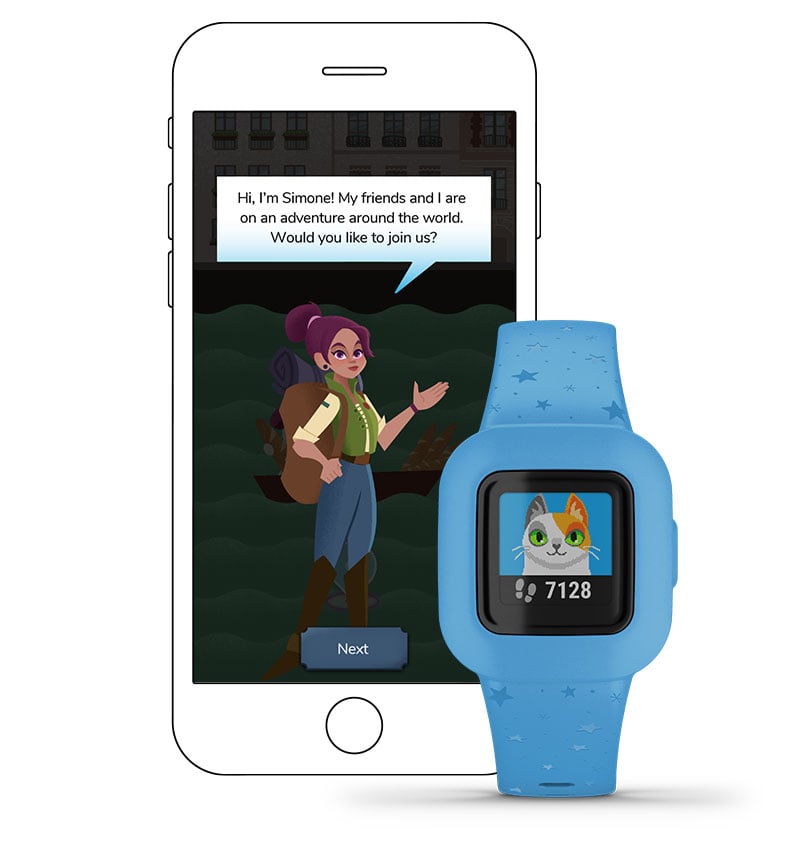 ACTIVITY UNLOCKS ADVENTURE
With you as their travel buddy, your child will unfold educational adventures, learn about famous sites and uncover mysteries as they explore everywhere from ancient Greece to Mount Everest.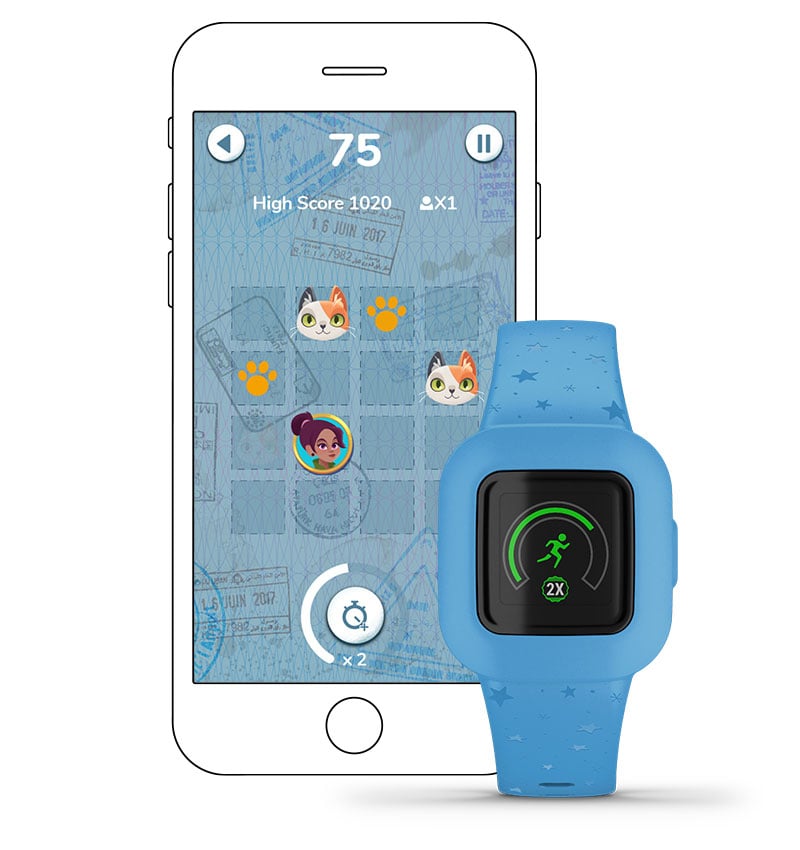 QUIZZES AND GAMES
Not only does 60 minutes of daily activity unlock adventure, the more active minutes kids log, the more chances they'll get to take pop quizzes, learn fitness moves and play tap challenge and matching games.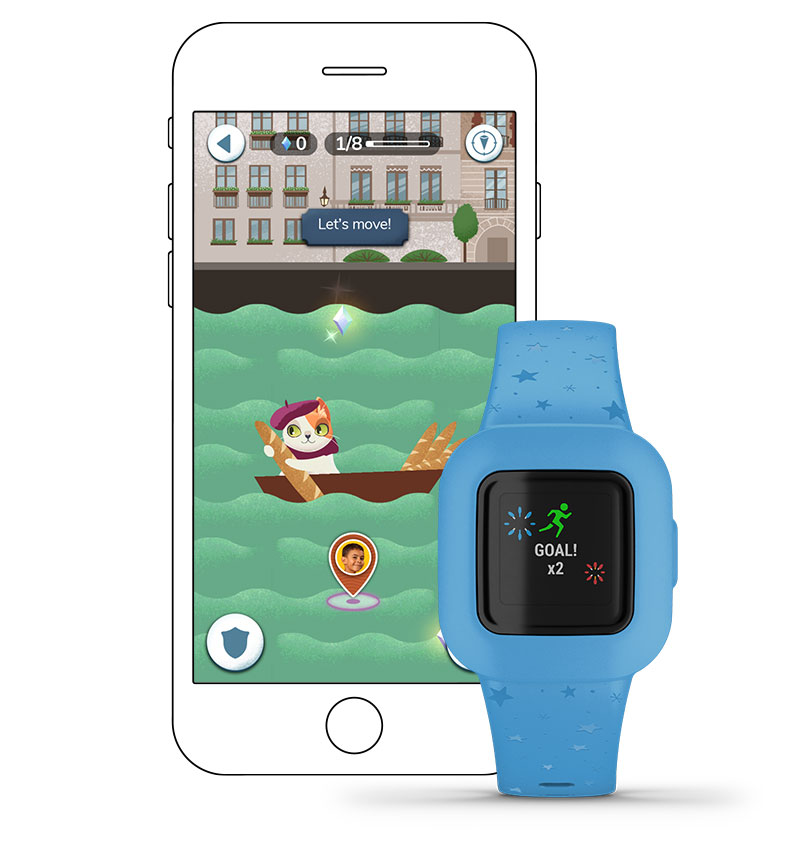 COLLECTIBLE GEMS
Meeting their daily activity goals also rewards your kid with colorful gems. They can use gems to reveal pictures in a scrapbook that features memories of all their adventures.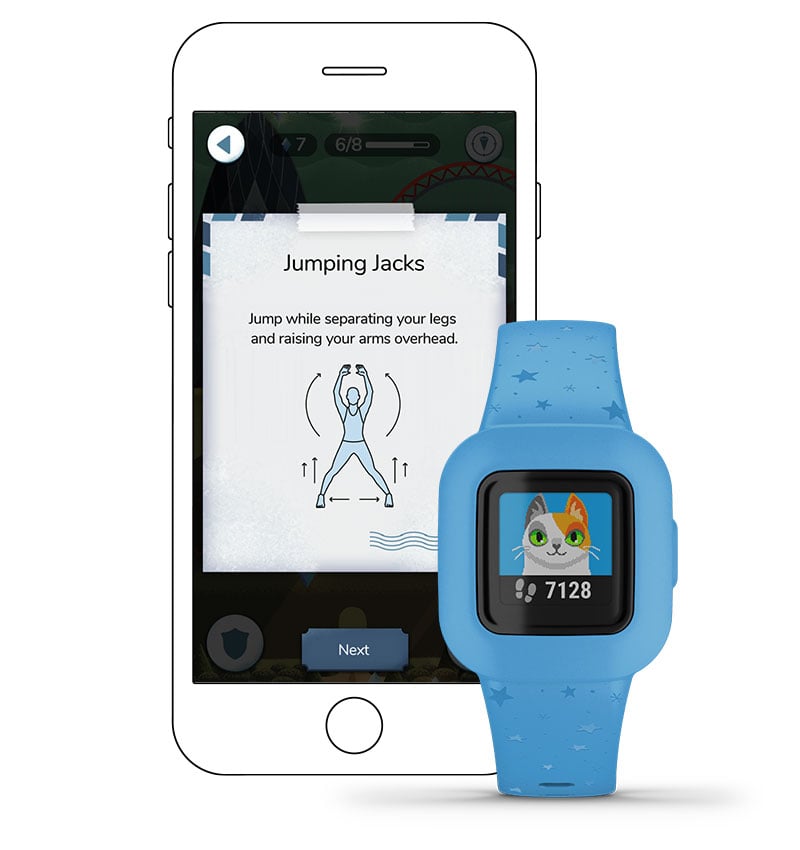 FITNESS CARDS
With coaching from their travel companions, your kid will learn basic exercise moves from fitness training cards, including jumping jacks, downward dog, mountain climbers and more.
Put more on your child's wrist.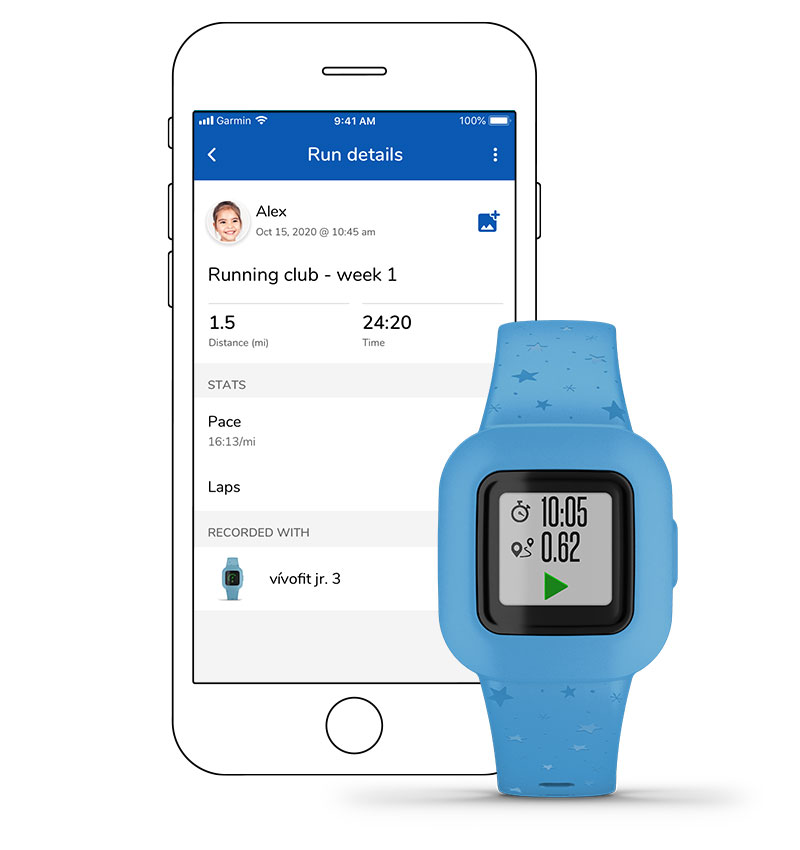 TIMED ACTIVITIES
New timed activities let kids track their steps and estimated distance during playtime at the park, soccer practice and much more. View saved activities later in the Garmin Jr.™ app1.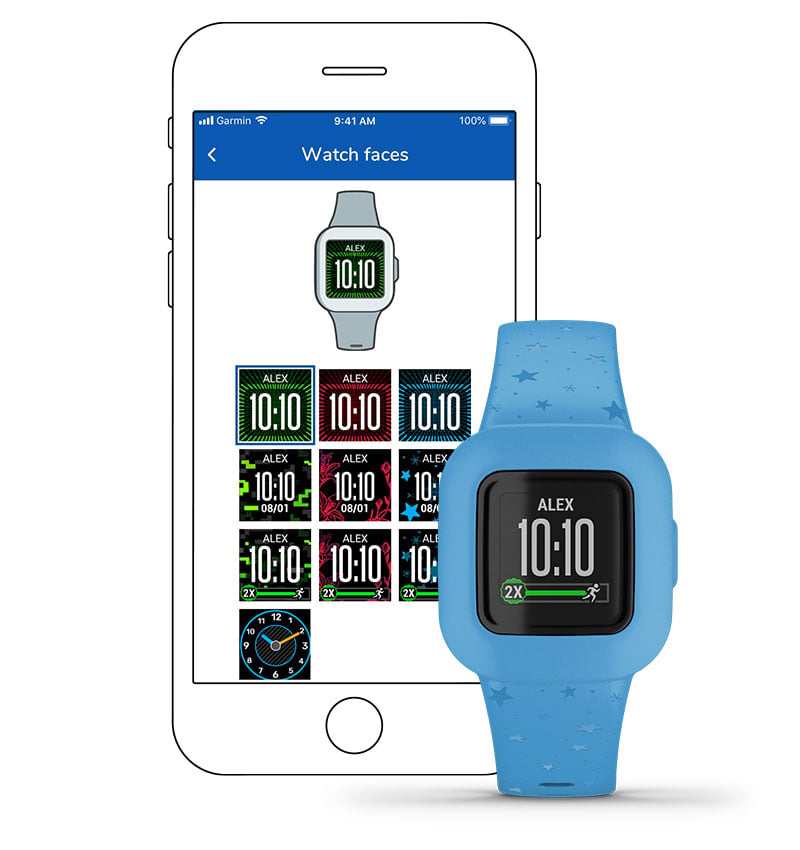 COLOR DISPLAY
Even on bright, sunny days, kids will be able to see everything on the color display. And you can help them customize it with fun watch faces.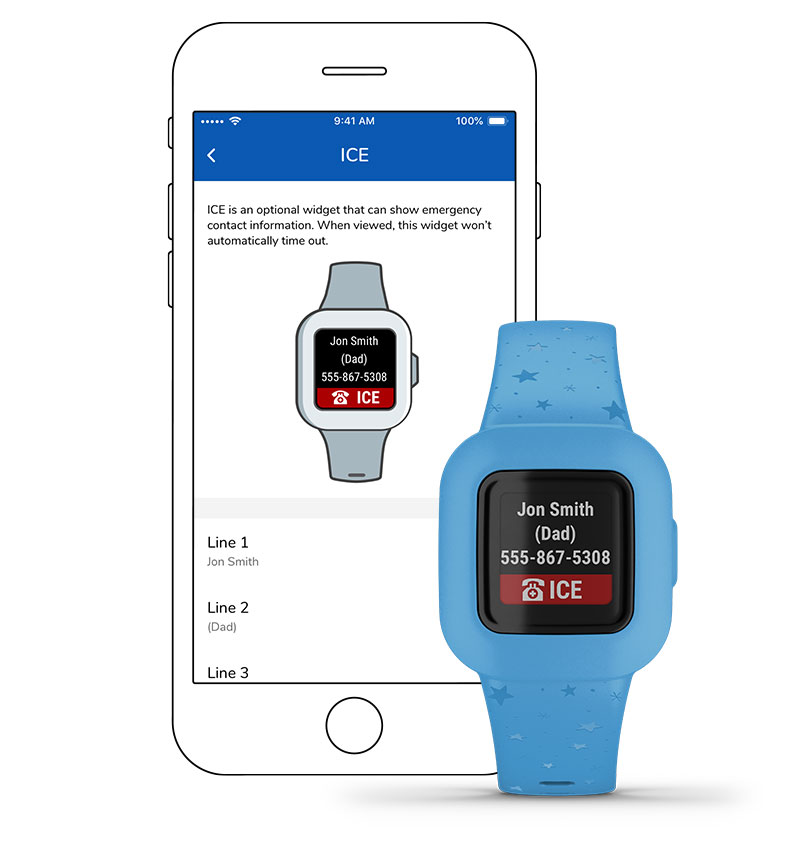 ICE (IN CASE OF EMERGENCY) WIDGET
It never hurts to be prepared. Input your child's emergency contact information into the ICE widget, so it can quickly be accessed if needed.
A helping hand for parents.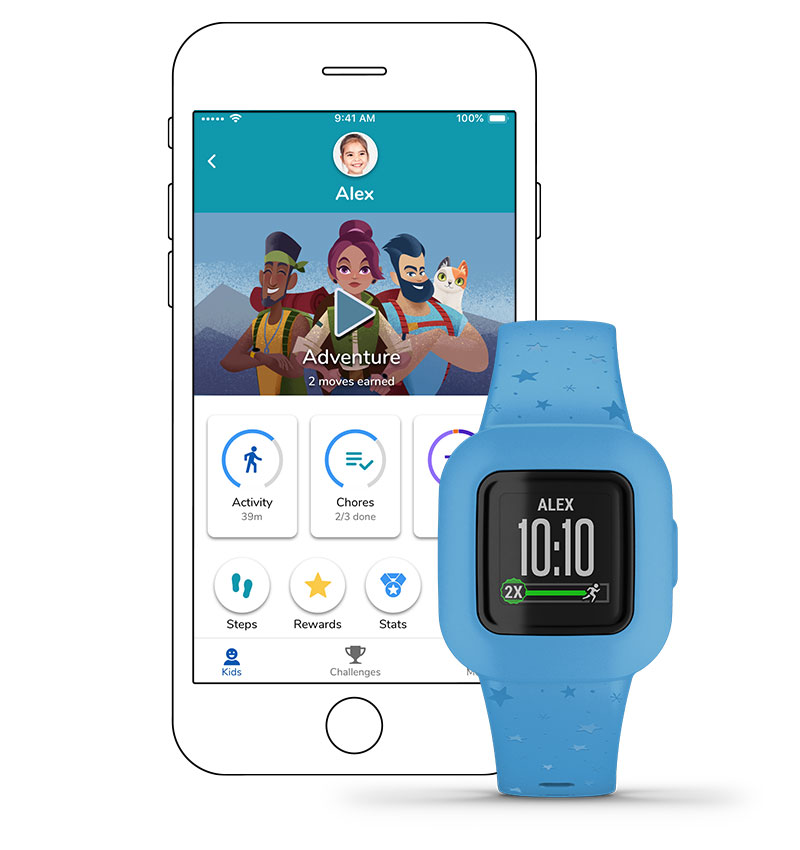 MONITOR ACTIVITY
With the Garmin Jr. app, parents can view activity, responsibilities, sleep, chore data and more after syncing with compatible devices.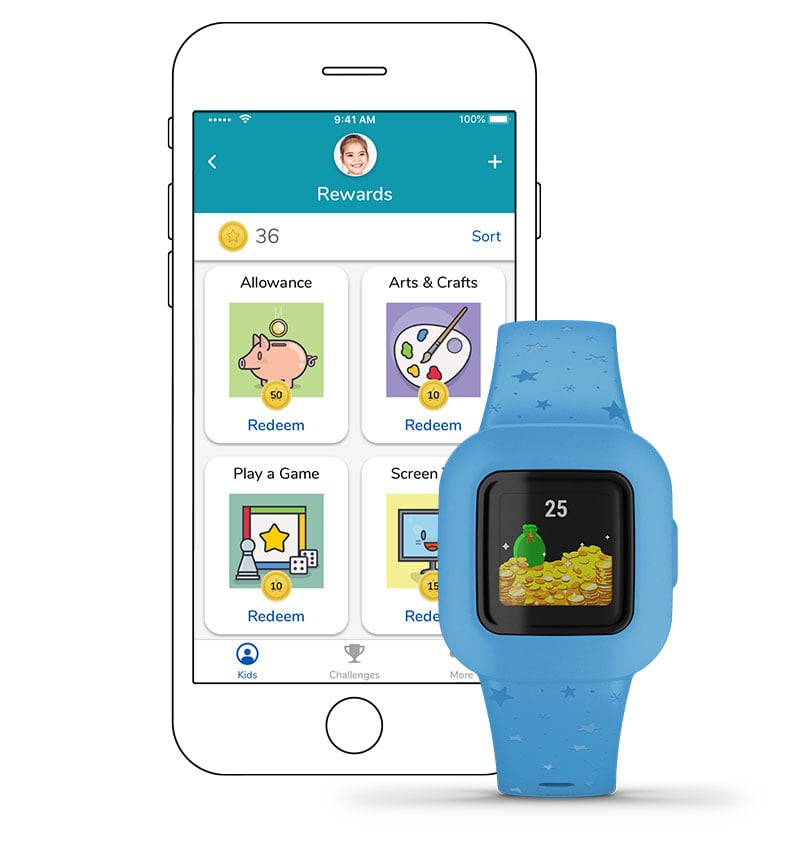 CHORES AND REWARDS
Assign tasks and chores from the app1, and designate a reward virtual coin value. Those in-app coins can be redeemed by your kiddos for agreed-upon rewards.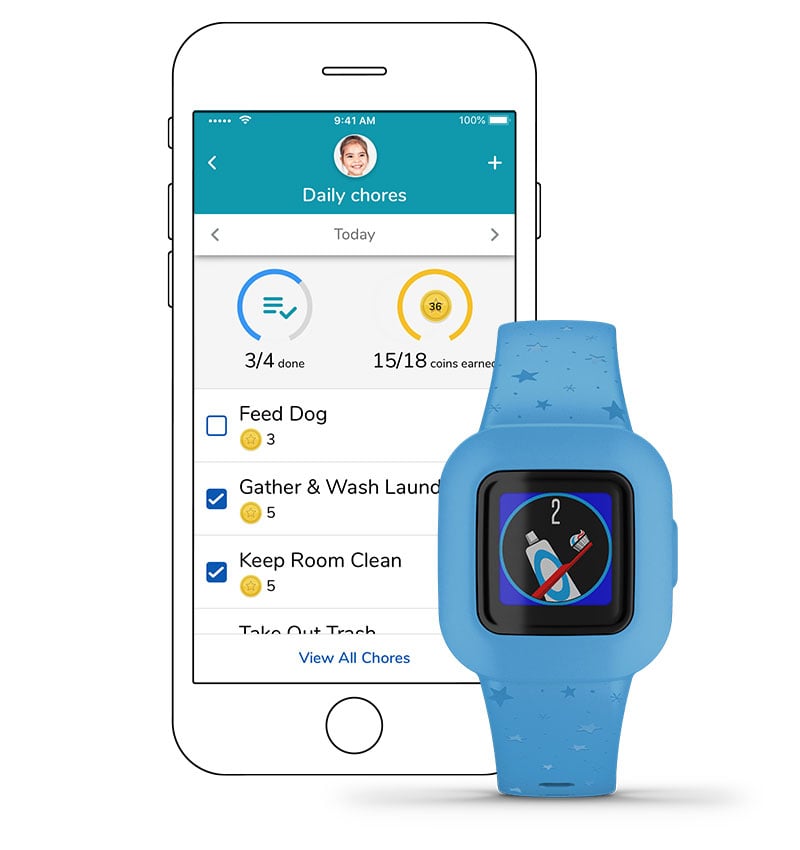 FRIENDLY REMINDERS
When you assign chores and schedule alerts, your kid's tracker will let them know with an icon that shows what needs to be done. These can be set up to recur weekly or even daily.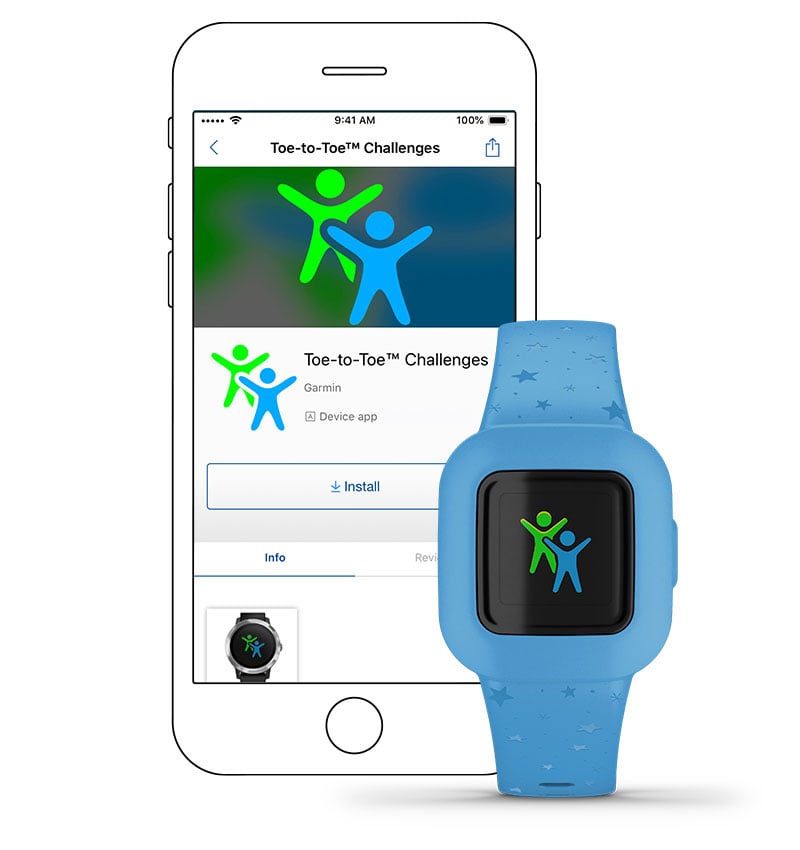 STEP CHALLENGES
With Toe-to-Toe™ step challenges, kids can sync with nearby friends to compete in timed step competitions. Parents can get in on the fun, too, with the Toe-to-Toe app and a compatible Garmin wearable.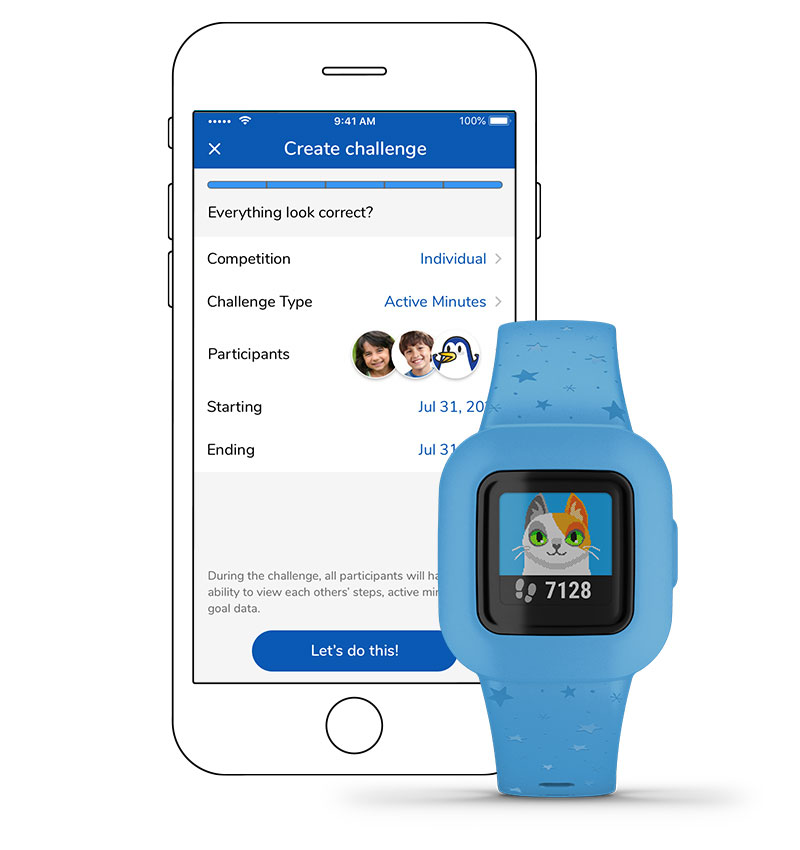 STAY ACTIVE TOGETHER
Link up with your kid's friends on the Garmin Connect™ app, and connect with other families in the Garmin Jr. app1. Interact with them, and compete in multifamily weekly step challenges.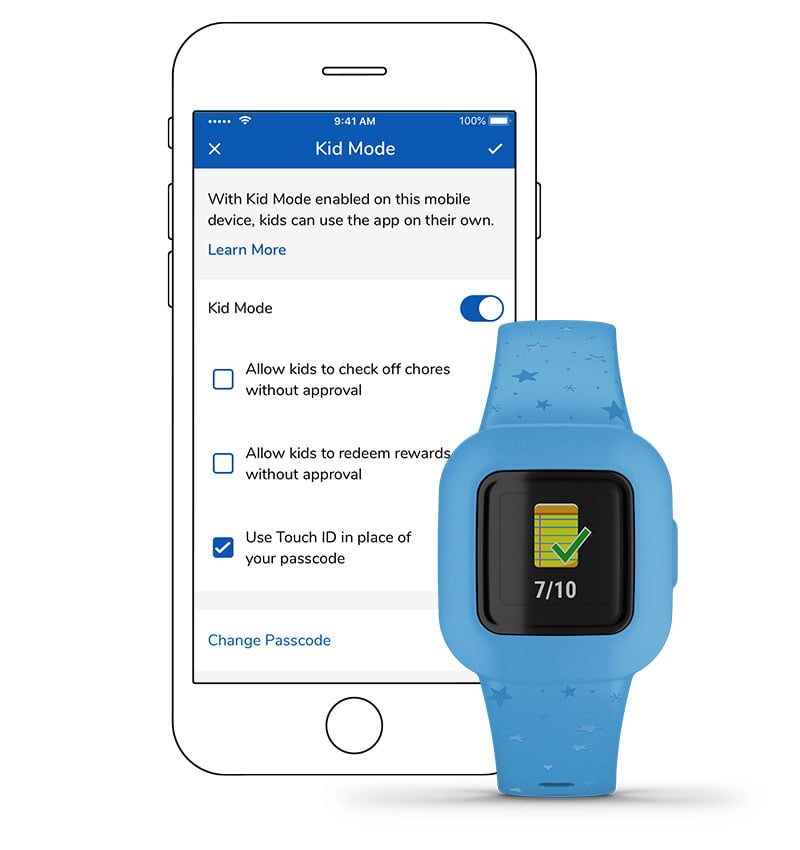 KID MODE
Enable Kid Mode in the Garmin Jr. app1 to give your kid limited access to monitor and check off their own chores and to view the latest mission in their app adventure.
Discover new adventures with your vívofit jr. 3 kids accessory bands.
Physical & Performance
GPS
No
Display resolution
112 x 112 pixels
Weight

25 g

Display type
sunlight-visible, transflective 64-color memory-in-pixel (MIP)
Battery life

Up to 1 year (1 x CR2025 user-replaceable)
See Details

Display size
0.56" x 0.56" (14.11 x 14.11 mm)
Maps & Navigation
| | |
| --- | --- |
| Memory/History | 7 timed activities, 14 days of activity tracking data |
Features
Time/date
yes
% HRR
No
Water rating
5 ATM
Around Me mode
No
Training Effect (anaerobic)
No
TruSwing™ compatible
No
Customizable data pages
No
HR Broadcast (broadcasts HR data over ANT+™ to paired devices)
No
Anchor Alarm
No
Hazards and course targets
No
Garmin AutoShot™
No
TracBack®
No
Auto scroll
No
Worldwide airport database(s)
No
Controls smartphone music
No
3-axis compass with HSI (horizontal situation indicator)
No
Ambient light sensor
No
Downloadable training plans
No
Countdown timer
No
HR zones
No
Point-to-point navigation
No
Finish time
No
Stat tracking (strokes, putts per round, greens and fairways hit)
No
Race an activity
No
Run workouts
No
Step counter
Yes
Manual lap
No
Distance traveled
Yes
Pairs with Garmin Connect™ Mobile
No
Training Status (lets you see if you're training effectively by tracking your training history and fitness level trend.)
No
Wirelessly receive flight plans from Garmin Pilot™
No
Future elevation plot
No
Measures shot distance (calculates exact yardage for shots from anywhere on course)
No
Courses
No
Fitness Age
No
Distance to destination
No
Smartphone compatibility
iPhone®, Android™
% HR max
No
Strength workouts
No
In Case of Emergency (I.C.E.)
Yes
Audible alerts
Yes
Calendar
No
Cycle Map (routable cycling-specific street map)
No
Find My Phone
No
Wrist-based Heart Rate (constant, every second)
No
Text response/reject phone call with text (Android™ only)
No
Compatible with Varia™ lights
No
Daily Resting Heart Rate
No
Training Effect
No
Night vision mode
No
Customizable activity profiles
No
Barometric trend indicator with Storm Alert
No
HR calories
No
Performance condition (after running 6–20 minutes, compares your real-time condition to your average fitness level)
No
Hunt/fish calendar
No
Alarm clock
Yes
LiveTrack
No
Dual grid coordinates
No
Strap material

silicone

Auto Lap®
No
Auto Pause®
No
Task timers (2, 5, 10, 15, 20 and 30 minutes)
Yes
PlaysLike distance
No
Compatible with Varia Vision™ (head-mounted display)
No
Activity history on watch
No
Advanced workouts
No
Open-water swim metrics (distance, pace, stroke count/rate, stroke distance, swim efficiency (SWOLF), calories)
No
Tack assist mode
No
Training Load (your total training load for the last 7 days calculated from estimated EPOC)
No
Storm alert
No
Power meter compatible
No
Ground contact time and balance (shows how much time, in the running motion, your foot is on the ground rather than in flight and lets you check your running symmetry)
No
Yardage to F/M/B (distance to front, middle and back of green)
No
Gyroscope
No
Auto max HR
No
Abnormal Heart Rate Alerts
No
Analog hands
No
Compass
No
FTP (Functional Threshold Power)
No
Thermometer
No
Course guidance
No
Barometric altimeter
No
Area calculation
No
GPS Time Sync
No
Countdown start (pool swim only)
No
60-minute activity goal
Yes
Bike lap and lap maximum power (with power sensor)
No
Physical size

Adjustable band fits 130-175 mm (ages 4+).
vívofit jr. 3 bands are compatible.

Full vector map
No
VIRB® Remote
No
Round timer/odometer
No
Stroke type detection (freestyle, backstroke, breaststroke, butterfly) (pool swim only)
No
Respiration rate (24x7)
No
Reminder alerts
Yes
GLONASS
No
Projected waypoint
No
Sunrise/sunset times
No
Find My Watch
No
Preloaded topographical maps
No
Vertical oscillation and ratio (the degree of 'bounce' in your running motion and the cost-benefit ratio with stride length)
No
Cadence (provides real-time number of steps per minute)
No
GPS speed and distance
No
Chores
Yes
Unit-to-unit route/location sharing
No
Foot pod capable
No
Move IQ™
No
Sun and moon information
No
Pool swim workouts
No
Heart rate from external HRM (real-time during rests, interval and session stats during rests, and automatic heart rate download post-swim)
No
Back to start
No
Toe-to-Toe™ Challenges
Yes
Automatic daylight saving time
Yes
Virtual Partner
No
Smart notifications
No
Green View with manual pin position
No
Round-trip course creator (running/cycling)
No
Chronograph
No
Weather
No
Pool swim metrics (lengths, distance, pace, stroke count, swim efficiency (SWOLF), calories)
No
Interval training
No
Multiple time zones with Zulu/UTC
No
Touch-targeting (touch target on display to see the distance to any point)
No
Strava Live Segments
No
Race predictor
No
Connectivity
Bluetooth®
Recovery time
No
Color display
Yes
Garmin Pay™
No
Compatible with BaseCamp™
No
Virtual starting line
No
Rewards (coins)
Yes
Built-in barometer and tide tables
No
Altimeter with adjustable baro setting
No
Auto CourseView updates
No
Automatic sync (automatically transfers data to Garmin Connect)
No
Intensity minutes
No
Auto goal (learns your activity level and assigns a daily step goal)
No
Stride length (real time)
No
Stopwatch
Yes
Sleep
Yes
Running dynamics
No
HRV stress test (measures your heart rate variability while standing still, for 3 minutes, to provide you with an estimated stress level; the scale of this is 1 to 100; low scores indicate lower stress levels)
No
Downloadable cartography support
No
VO2 Max (Run)
No
Lactate threshold (through analysis of your pace and heart rate, estimates the point where your muscles start to rapidly fatigue)
No
GPS coordinates
No
Compatible with Vector™ (power meter)
No
Unlock new step icons
Yes
Garmin Live Segments
No
HR alerts
No
Hot keys
No
"Repeat on" rest timer (pool swim only)
No
Accelerometer
Yes
Yardage to layups/doglegs
No
Handicap scoring
No
GPS-based distance, time and pace
No
Worldwide NAVAID and Intersection database(s)
No
Touch and/or button lock
No
Calories burned
No
Advanced Vector support
No
Trail run auto climb
No
Audio prompts
No
Configurable lap alerts
No
Timer
Yes
NEXRAD on moving map
No
TrueUp™
No
Connect IQ™ (downloadable watch faces, data fields, widgets and apps)
No
Vertical speed
No
Touchscreen
No
Floors climbed
No
Bread crumb trail in real time
No
Elevation profile
No
Move bar (displays on device after a period of inactivity; walk for a couple of minutes to reset it)
No
Custom targets
No
PinPointer
No
Sight 'N Go
No
Tempo Training
No
Garmin Elevate™ wrist heart rate monitor
No
Waypoint information page
No
Swing Tempo
No
Group LiveTrack
No
Alerts (triggers alarm when you reach goals including time, distance, heart rate or calories)
No
Moving Map with aviation airports, navaids, roads, bodies of water and more
No
Compatible with Varia™ radar (rear-facing radar)
No
Race an Activity
No
Custom alerts
No
Multiple bike profiles
No
Total ascent/descent
No